All the speed you need.
The Fastest Internet
in Kingsland
High Speed Internet starting at
Kingsland, GA
Positioned on the Southeast coast of Georgia, Kingsland is a small tightknit community encompassed by beautiful marshes and swamps. Surrounded by popular destinations such as Cumberland Island, Amelia Island, and Jacksonville, there is no shortage of exploration. With Hargray's world-class communications infrastructure and the Fastest Internet in Town- with speeds up to 1,000 Mbps- Kingsland Businesses, residents, and visitors stay connected to what matters most.
Business Services
Whether you are a small business looking for an affordable Internet, TV, and, phone bundle, or a larger company searching for enterprise-level technology services including hosting, data storage, and backup, Hargray will help you stay connected and drive down costs by designing a custom solution for your unique business needs.
Local Office
Kingsland
220 E King Ave
Kingsland, GA 31548
Tel: 912.729.3777
Hours: Monday - Friday 8am - 5pm*
* Office hours are kept up-to-date; however, unforeseen events may cause office hours to change unexpectedly.
How can we help?
How can I choose the right Internet speed?
Click 'Learn About Bandwidth' to find the Internet plan you need to keep all your devices connected. Whether you're simply sending emails, working from home, streaming videos or online gaming, you can choose the best data speed for your digital lifestyle. Try us risk-free with our 30-day money-back guarantee.
What Internet speeds are available in Kingsland?
Hargray continues to expand network capabilities in Kingsland and now offers 1 Gig Internet with speeds up to 1,000 Mbps in many communities, with plans for continued expansion in the coming months.
When will Gig Internet speeds be available to my Kingsland home or business?
Hargray continues to expand services in Kingsland. Please click to chat online or call 1.843.341.1501 to find out plans for your community.
Does Hargray have a sales and service center in Kingsland?
Absolutely! We are proud to be a part of the local community and welcome you to our sales and service center located at 220 E King Ave, Kingsland, GA 31548.
Why should I choose Hargray as my service provider in Kingsland?
Hargray offers the most advanced products and services including the fastest Internet speeds in Kingsland. As a local provider, Hargray is dedicated to YOU – residents and businesses here in the community. With our Kingsland retail, nearby call center, and network operations, our expert locally based team delivers customer delight with unparalleled responsiveness.
Can I keep my home phone number if I switch to Hargray?
Switching to Hargray is easy, and you can keep your home phone number. Installation is hassle-free, too, with appointments scheduled at your convenience. Try us risk-free with our 30-day money-back guarantee.
Partnerships
Hargray is a member and a Bronze Sponsor of the Camden County Chamber of Commerce.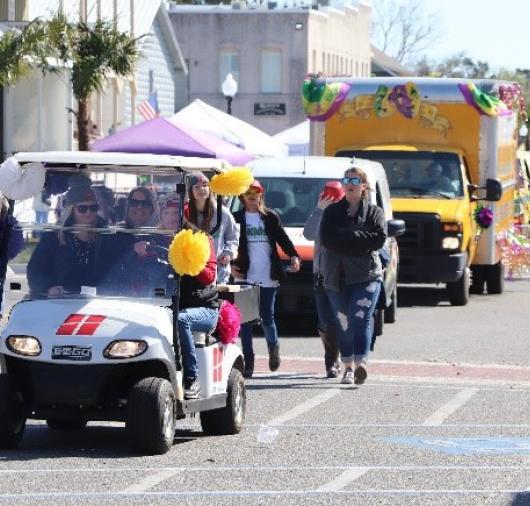 Hargray is a proud sponsor of KBAY 106.3's 27th Annual Mardi Gras Festival & Parade. This annual event brings culture, music, and family fun in the beautiful setting of Downtown St. Marys.