What is 5G Home Internet and is it good?
What You Need to Know
5G Home Internet is fixed wireless internet which utilizes a cellular network to deliver internet to homes. It's the same cellular network smartphones operate on. A cellular network with interference could mean streaming video buffering, jitter when gaming, or dropped connections while working from home on zoom calls. It's a poor substitute for the internet delivered on Hargray's fiber-fueled network, which is faster and more reliable.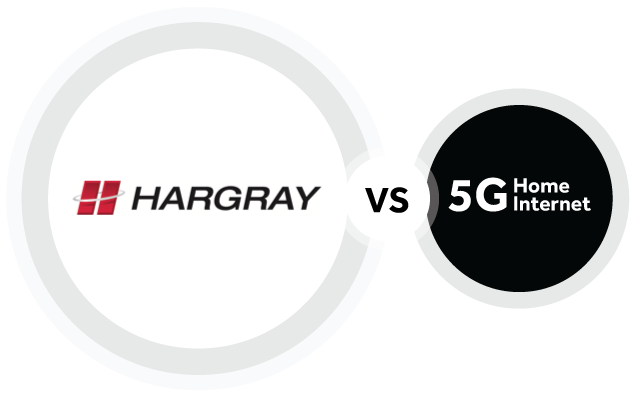 Why Do T-Mobile And Verizon 5G Home Internet Underperform Compared to Hargray?
Because 5G networks are cellular networks, they're less reliable than wired networks like Hargray's. The wireless interference, speed limitations, network congestion and mobile traffic associated with 5G Home Internet can make for a frustrating experience.
Check out the reasons below highlighting why Hargray's Internet delivers a faster and more reliable experience than 5G Home Internet.
CONFUSING CLAIMS
5G Home Internet service is advertised as fast, but it's not yet as consistent or reliable as the wired connection delivered by Hargray Internet. Read the fine print. 5G Home Internet reliability and consistency stipulations are numerous.
WIRELESS WILL BE WIRELESS
Because 5G Home Internet is wireless and relies on the same cell towers as 5G mobile devices, obstructions such as buildings, trees, and bad weather impact its performance.
INCONSISTENT SPEEDS
5G Home Internet performance can differ depending on the mobile provider and other factors but significant speed fluctuations during peak usage times are very common with the service.
CAPACITY LIMITS
5G Home Internet competes for capacity with cell phones - and mobile customers are commonly prioritized over 5G Home Internet customers during periods of network congestion.
5G Home Internet Pros & Cons
While 5G Home Internet can be a good solution for consumers with limited internet options, the reality is if you have access to a wired broadband connection like Hargray's your experience will likely be faster and more reliable.

FREQUENTLY ASKED QUESTIONS